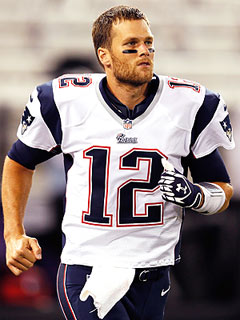 I am very pleased with some news I came across today!
Tom Brady and the New England Patriots have agreed to a 3-year extension on his contract through 2017! Surprisingly, it's only for $27 million (yes, it does feel weird to say "ONLY $27 million") which is much less than I would've expected. I mean, according to Mike Klis of The Denver Post, even Peyton Manning is due to make $40 million over the next two years.
Being that he is such an amazing quarterback and major asset to the team, I'm sure that Tom could have negotiated for more money. However, I love and respect that he's more concerned about being a Patriot for what could likely be the rest of his NFL career than with the money aspect.
This drop in Tom Brady's salary also gives New England extra money to spend on re-signing other current players and picking up new ones.
I can definitely deal with Tom Brady as the Patriots quarterback for an extra 3 years! I wish he could just keep playing with the same talent, focus, heart and determination for many, many years after that! But even Tom Brady deserves to retire eventually, I suppose. 🙂
– Nikole Davidson (@SportsWithNikki)